Awareness Raising Initiatives for Social Enterprise
(ARISE) Scheme 2021
What is ARISE?
Dormant Accounts Funded 'Awareness Raising Initiatives for Social Enterprise' (ARISE) Scheme.
Working in partnership with social enterprise stakeholders, DRCD has developed an Awareness Strategy for social enterprise in Ireland. Its main aims are to:
Provide a common approach to the communications and language around social enterprise.
Foster a common understanding of the value of social enterprise.
Collectively empower social enterprises to have a voice and a role in raising awareness.
The purpose of the Awareness Raising Initiative for Social Enterprise was to provide funding to social enterprises and their support and network organisations to carry out awareness raising initiatives that will increase awareness of social enterprises and their potential, in line with the Awareness Raising Strategy. Funding for this scheme was provided from the Dormant Accounts Fund.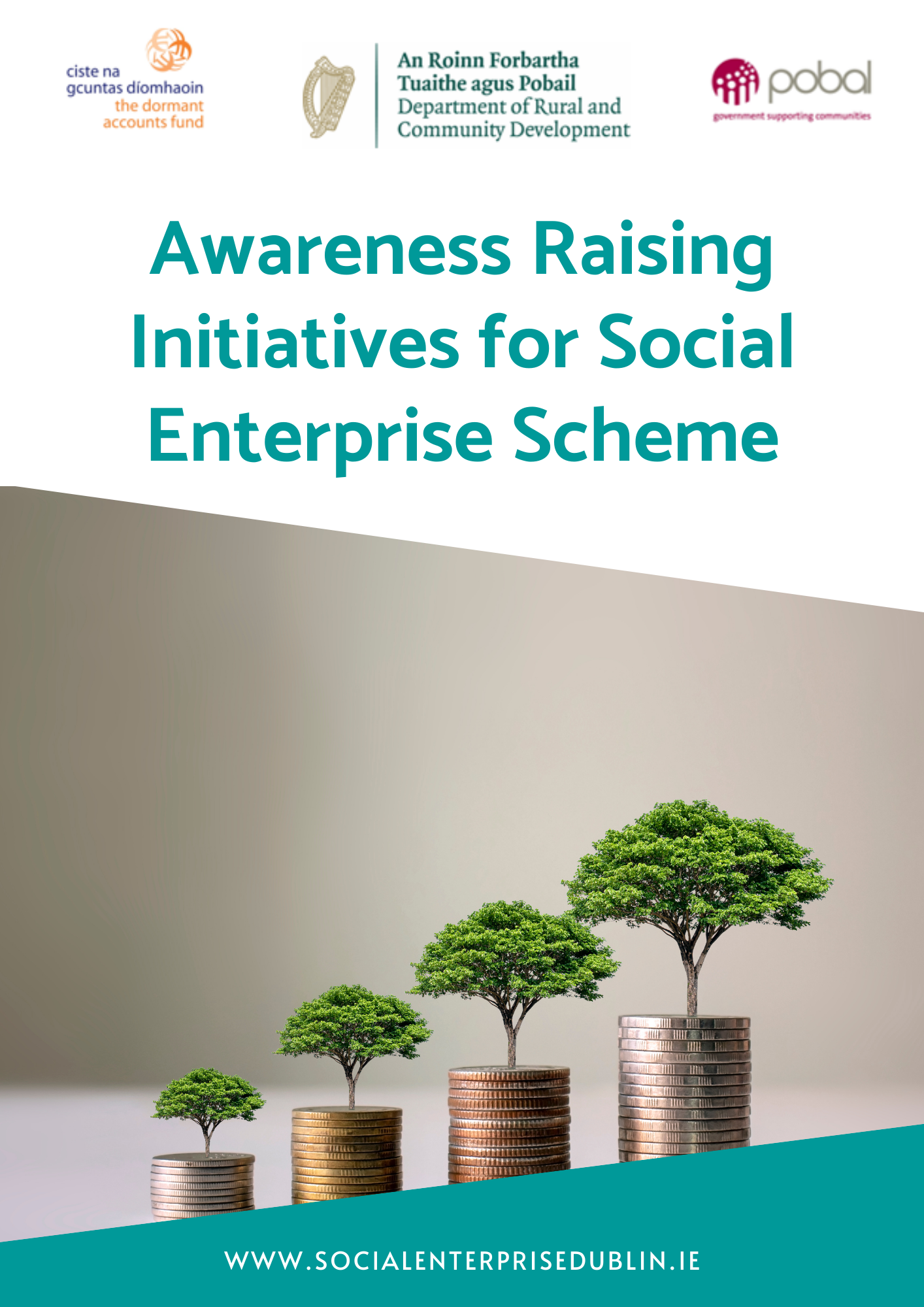 What was included?
The scheme is inviting applications under two strands:
Strand One was aimed at individual social enterprises and their stories. It is envisaged that they would tell their story and highlight how their social enterprise is improving the lives of others.
Strand Two was aimed at Social Enterprise Network & Support orgs to deliver more general messages on what social enterprises are, and their potential to deliver sustainable development.
A number of our local social enterprises were encouraged to apply for Strand One and were successful and we have collaborated with them to reduce duplication and overlap and to achieve the overall aims and promotion of the key messages of the Social Enterprise Awareness Raising Strategy.
We answered questions such as:
What is a social enterprise?
What makes social enterprise unique?
What benefits does social enterprise bring?
Why should we find out more about social enterprise?
What did we do?
Social Enterprise Dublin with Dublin South City Partnership as the lead partner, successfully received funding under Strand Two in 2022.
Social Enterprise Dublin have designed the campaign to include a range of audience specific actions and next steps to take. All of the campaign's marketing materials are anchored with specific calls to action (CTAs). Precise and clear directions about the next steps we wanted our target audience to take, whether that's following Social Enterprise Dublin and our social enterprises on social media, learning more about their social missions, or sharing our/their posts and activities was encouraged throughout the campaign. Social Enterprise Dublin will stay focused on our mission and specific issue of raising awareness, keeping our messages mission-centric with an emphasis on educating the public about social enterprises, the different factors that impact them, and their importance to our communities for economic, social, environmental and democratic wellbeing.
"*" indicates required fields